Welcome to The Portsmouth Film Society's website. The society shows the best in world cinema, documentary, independent film, animation and classic movies. Members see great films in a social environment, and meet and chat about movies with other film fans. PFS gives you the chance to watch great films that you might not otherwise get a chance to see.
find us on Facebook
 Follow us on Twitter
GRAVITY
Thursday 27 November
7pm ELDON SCREENING THEATRE
1 hr 29| Cert 12A
Buy tickets online here
A heart-pounding thriller that pulls you into the infinite, unforgiving realm of outer space. Dr. Ryan Stone, is on her first shuttle mission, with veteran Astronaut Matt Kowalsky when disaster strikes. As fear turns to panic, the only way home is to go further into the terrifying expanse of space. Part of the BFI's "Days of Fear and Wonder" Science Fiction season.
"Gravity is something quite rare–a truly popular big-budget Hollywood movie with a rich aesthetic pay-off. Genuinely experimental, blatantly predicated on the formal possibilities of film." Kristin Thompson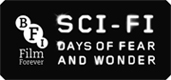 GRAVITY will be preceded by the locally made short film THUNDERMAUS.
Thundermaus  is a salvage hunting space freighter, designed for interstellar travel and powered by hamster. Lead by the sea salty Captain Ted, his hapless crew of misfits consists of neurotic science assistant , the eccentric Professor Pepperdine, the  absent minded computer,  and a sarcastic cleaner robot.  Oh, and the crew are all teddy bears.
Props, puppets, voices, script and Direction – Jayson Scott Adams
Camerawork, editing and additional props – Kevin Alan Wilkins
Grip, costumes and set dressing – Alice Hume
Key grip and voice over – Meg Day
Additional voice over – Jo Katerinas